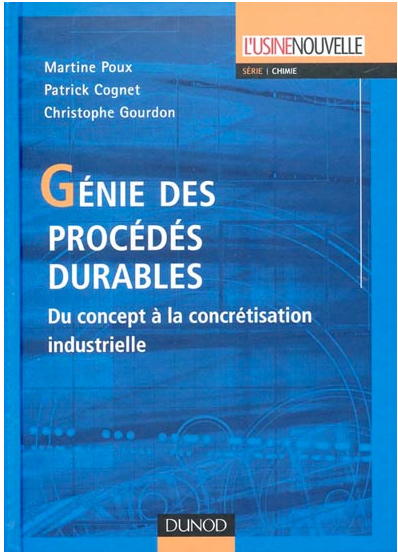 recently published by Dunod. This is the first French publication on this topic!
This book has been coordinated by Martine POUX, Patrick COGNET and Christophe GOURDON from the Laboratoire de Génie Chimique/ENSIACET, Toulouse. It presents an ensemble of methods and new chemical engineering routes that can be integrated in industrial processing for safer, more flexible, economical and ecological production processes in the context of green and sustainable engineering.
Different methods for improving process performance are dealt with, including:
– eco-design and process optimization by systemic approaches
– new technologies for intensification
– radical change of industrial processes via the use of new media and new routes for chemical synthesis.
These various methods are fully illustrated with examples and industrial cases, giving this book a much applied nature. It is particularly recommended for technicians and engineers, as well as university students and professors.
More details here